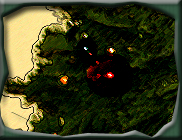 Christmas 2002 was low key and relaxing as we unwound from our whirlwind first month with Niamh. We got our tree put up, after much battling with the tree stand, which included a partial dissassemble so I could reseat the tree properly on the base pedestal about 8 or 9 times. This is the type of exercise that really puts one into the holiday mood, as I imagine replacing a carburetor in an 82 Oldsmobile might.
Tracy did the tree decorating, and when Christmas day rolled around, Niamh donned a Christmas dress, and posed with Mommy in front of the tree. Click on the Frame above. After a batch of pictures taken using natural light had to be discarded, we got the right prescription and got a great series. A few more pictures are included
Here
and
Here
.
Defined tags for this entry:
Family

Niamh has had a number of visitors from abroad, including Grandma Betty visiting from Ireland, and Uncle Leonard (and honorary Aunt Carolyn) from Australia. She's now one month old, and has grown to twenty two inches, and nearly ten and one half pounds. The pediatrician says if her eyes remain their current blue color for three months, they will probably stay that way, which would make daddy very happy. Of course, the real news, is I finally got a selection of photos from Grandma Betty's visit. Click Niamh for the gallery.
Defined tags for this entry:
Family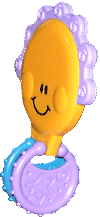 Niamh is 17 days old today. Yesterday we assembled one of her first toys,
a Fischer Price Kick 'n Play Bouncer
. To my surprise the chair worked very much as advertised and seemed to be incredibly fascinating to her. It features touch sensitive pads where her feet reach, and given the right level of agitation, she is capable of setting off a number of different chimes and short songs, accompanied by flashing lights. She reaches for the dangling items which extend from the bar, but is not currently able to reach them. Click on the smiley sun toy for a picture of Niamh in action.
Although the chair requires 4 batteries none are included. My god, shouldn't this fact be written in large letters across the box! Luckily like all men, I am genetically predisposed towards hording a variety of batteries, and squirreling them in various locations around the house. I readily admit to a strange compulsion that causes my hand to involuntarily throw a package of batteries (lately the NIMH rechargeable variety are especially alluring) into whatever shopping cart or basket I might have available to me. It might not even be my basket, and no doubt many a stranger has found themselves the unwitting owner of a new set of 4 AA's whilst unpacking the shopping bags at home. No doubt I'm not alone, as batteries seem to be one of the common impulse buy items that every retailer no matter what their focus, likes to put on the shelves in the checkout aisle. Show me a woman who professes to have no need for a man, and I'll show you a woman with an inadequate supply of batteries.
« previous page
   (Page 1 of 1, totaling 3 entries)   
next page »