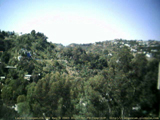 I wanted to do a
Laurel Canyon Cam
for a while, and finally got one positioned in a location of the house that provides a decent if not perfect view of the inner canyon through a window. The cam faces north and takes a 640x480 image once every minute, transfering it to one of the gizmola webservers. I then overlay this information with the local temperature which I pull from an xml weather feed via a php class library (
ivweather.class.php
) that I've recently released. The included ivweather
test page
is live here.
The cam allows for positioning, and I'm experimenting with this, and hope to allow visitors to be able to move the cam into one of a series of presets via the web.
In addition I added a
forum
to support the various scripts and opensource projects I've released, as well as providing a place for folks to guest book, or leave questions or comments about any of the articles or blog type entries I've provided on the site over the last few years.
Drop by and say hello
.
« previous page
   (Page 1 of 1, totaling 1 entries)   
next page »